Snapcraft GUI 3.0 recently released, is a graphical user interface to the Snapcraft command-line tool for creating Snap packages, and the latest release, Snapcraft GUI 3.0, is available to implement a "Recent Project" functionality, as well as a Project Notes feature that lets you write and save notes for your Snapcraft projects.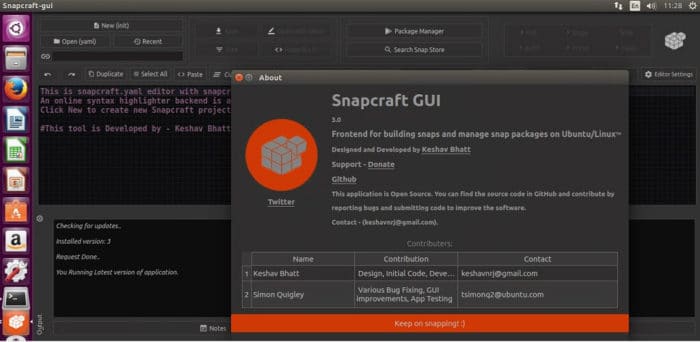 Snapcraft GUI 3.0 changelog
Recent Project manager
Project notes
Features improvements
An example snapcraft.yaml built in snapcraft-gui just to build a snap and test all features and commands
Check for updates on startup, to ensure the user is running the latest version of the tool
Add an icon to gui
New syntax highlighter
Editor now have settings which are saved and loaded in next session.
See https://github.com/snapcraft-gui/snapcraft-gui/commits/master for more changes in detail.
How to Install Snapcraft GUI 3.0 on Ubuntu 16.04 and and Ubuntu 16.10 Yakkety Yak
sudo apt-get install gdebi

https://github.com/snapcraft-gui/snapcraft-gui/releases/download/3.0/snapcraft-gui_3.0_amd64.deb

sudo gdebi snapcraft-gui_3.0_amd64.deb

snapcraft-gui
How to build Snapcraft GUI 3.0 from source package on Ubuntu 16.04 and and Ubuntu 16.10 Yakkety Yak
git clone https://github.com/keshavbhatt/snapcraft-gui.git

cd snapcraft-qt/

qmake

make

./snapcraft.gui
comments powered by

Disqus