Enlightenment 0.21.2 recently released, is a bugfix release that improves on the 0.20.8 release and resolves a number of issues. Enlightenment is an open-source desktop environment, which contains customization with animations, effects and dedicated applications.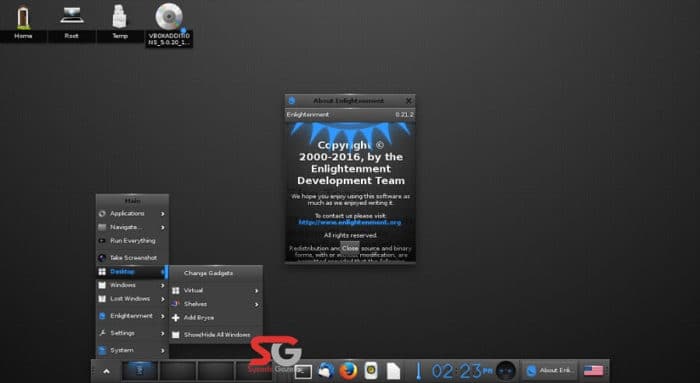 Enlightenment 0.20.9 Highlights
Fix wayland clients not deleting when they're hidden

Fix wayland extension global creation

Fix bg with single jpeg images (no edj)

remove need to create different dialog windows under wayland
add key_up and key_down methods to sreen interface
e: Don't show two consecutive menu separators if there is no need in client menu

improve quickaccess relaunch help dialog text

clear wl subsurface data during delete only if subsurface is not also deleted

add xwayland compat for efl 1.19+

E: include uuid.h only when Wayland support is enabled
mailmap: sync updated file from efl repo
e – fix major memory bloat when in gl mode – dont create shm segments
e comp – set alpha after setting native surface to avoid random crash
remove unused variables from _ibar_resize_handle
See announcement for more details
How to Install Enlightenment 0.21.2 on Ubuntu 16.10, Ubuntu 16.04, Ubuntu 14.04 Trusty Tahr, Ubuntu 12.04
sudo add-apt-repository ppa:niko2040/e19

sudo apt-get update

sudo apt-get install enlightenment
After installation is completed, logout and select enlightenment desktop mode.
Remove Enlightenment 0.21.2
sudo apt-get remove enlightenment
comments powered by

Disqus