EME is an Elegant Markdown Editor recently released for Linux. EME was developed with Electron framework. The goal of EME is to give you teh best markdown editor experience and its available for Windows, Mac, Linux.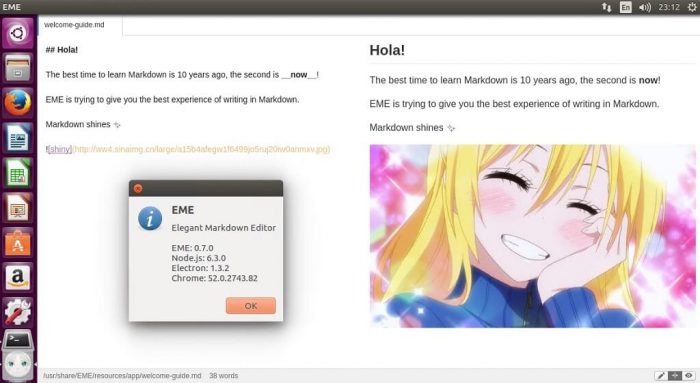 EME Features
It just suits, show editor or preview or both just as you wish.
Focus mode, writing without distractions.
Exportable, from Markdown to HTML/PDF… You name it.
Supporting math typesetting, good for students and professionals.
EME 0.7.0 Changelog
The latest release of EME is v0.7.0 and below is changes made.
Features:
Check for updates in menu
Add tooltip to footer buttons
Rename file
Drag tab to resort
Bug fixes:
Vim dialog style tweaks
Make closing tab event cancelable
fix dumb code
do not count punctuations
use flexbox in header tabs
add notification when pdf is exported
add check for updates
fix webpack config
fix typo
update about menu item for both macos and windows
revert about menu item for macos
Adding tooltips to footer buttons
How to install EME 0.7.0 Elegant Markdown Text Editor on Ubuntu 16.04 (Xenial Xerus), Ubuntu 15.10 (Wily Werewolf), Ubuntu 15.04 (Vivid Vervet), Ubuntu 14.04 (Trusty Tahr)
sudo apt-get install gdebi

wget https://github.com/egoist/eme/releases/download/v0.7.0/EME_0.7.0_amd64.deb

sudo gdebi EME_0.7.0_amd64.deb
comments powered by

Disqus