Visual Studio Code 1.4 recently released, is a new type of tool that combines the simplicity of a code editor with what developers need for their core edit-build-debug cycle. Code provides comprehensive editing and debugging support, an extensibility model, and lightweight integration with existing tools.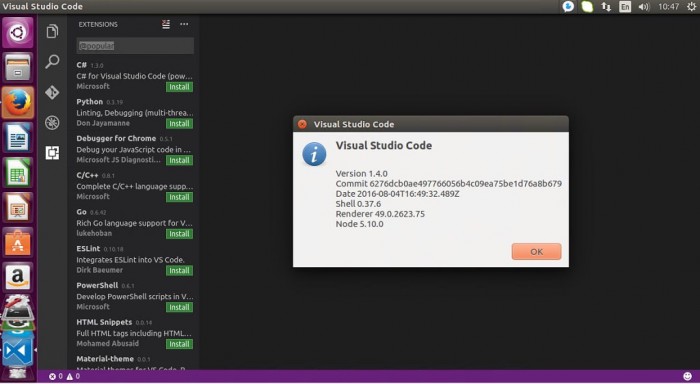 Visual Studio Code 1.4 Highlights
Workbench: Editor actions such as Open Preview and Switch to Changes View are back on the title bar. IME and Copy/Paste support in the Integrated Terminal.
Editor: Better snippet and suggestions control. New Insert Snippet command with dedicated UI.
Debugging: Restart Frame action to rerun a specific stack frame. 'Variable paging' feature moved into VS Code and available to all debug extensions.
Extension Authoring: New 'move' commands to better support VIM gestures. Custom link behavior with the DocumentLinkProvider API. Expanded Debug Protocol.
Notable Changes
Allow to disable drag and drop in the files explorer
Sometimes SVG icons do not show up on Windows 7
Weird tabs auto scrolling behaviour
Deleting folder containing dirty files closes dirty editors
Run selected text in active terminal is not running the selected text on Windows
Lines containing unicode characters in integrated terminal differ in height
Global search and replace: Support regular expression variables in replace
See release notes for full details
Install Visual Studio Code 1.4 on Ubuntu 16.04
32bit
sudo apt-get install gdebi

wget https://az764295.vo.msecnd.net/stable/6276dcb0ae497766056b4c09ea75be1d76a8b679/code_1.4.0-1470328389_i386.deb

sudo gdebi code_1.4.0-1470328389_i386.deb
64bit
sudo apt-get install gdebi

wget https://az764295.vo.msecnd.net/stable/6276dcb0ae497766056b4c09ea75be1d76a8b679/code_1.4.0-1470329130_amd64.deb

sudo gdebi code_1.4.0-1470329130_amd64.deb
comments powered by

Disqus