Cinnamon 3.0.6 recently released, is a Linux desktop which provides advanced innovative features and featuring a traditional layout, built from modern technology for user experience. This latest release comes with a number of fixes highlighted below.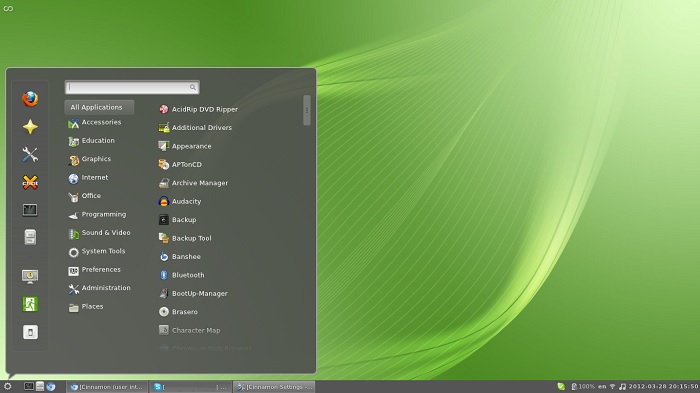 Cinnamon 3.0.6 Changelog:
Add a generic "bluetooth" icon
power applet: Don't connect to any signals that call _devicesChanged until we have the power proxy (since the callbacks assume we do have it).
windowAttentionHandler.js: make the ignored app check case- insensitive. While we're here make it a gsettings array for convenience.
org.cinnamon.gschema.in – add pidgin to ignored wm classes.
Touchpad settings: Invert motion-threshold setting widget
appletManager.js: Fix copy/pasting applet panel applet layouts. Extension.get_max_instances() needed an extra argument, and then we were doing work twice – finished removing obsolete code.
cinnamon-recorder: fix crash when starting recorder…
cinnamon-recorder.c: restore avoidance of the panel when drawing the recording indicators. This was removed during some panel work a while back and never restored. Always draw them on the primary monitor now (the only monitor with reliable, simple-to-get workarea information).
fix spelling mistakes
onscreen keyboard: Add option to change activation behavior – accessible mode has the keyboard appear whenever focus demands it (ordinary accessibility behavior). On-demand mode will have the keyboard only appear when the user requests it via an applet click or keyboard shortcut.
Themes settings: Fixed loading icon themes when a theme isn't readable
popupMenu.js: use the signalManager.disconnect correctly – the source actor (the panel actor for the applet) has to be the second argument, the object to disconnect from. Was causing flickering in the menu applet after repositioning it.
Makepot
Settings: Don't hardcode "more info" link color in spices modules
[desrt] network: properly remove connections from list
Network applet: Fixed icon not showing VPN status
Network applet: Delete trailing spaces
Network applet: Fixed applet showing "Auto" wireless connection when turning wifi OFF and then back ON.
tray icons: Bump icon request to 24, then scale back to 20 in the applet. This is needed due to changes to GtkIconSize values in Gtk3. GtkStatusIcon iterates thru the built-in icon sizes to pick an appropriate icon to use, and as of 3.18 there are no sizes between 16 and 24px.
Preferred application settings: Set mimetypes more exhaustively
Install Cinnamon 3.0.6 on Linux Mint
sudo add-apt-repository ppa:gwendal-lebihan-dev/cinnamon-nightly

sudo apt-get update

sudo apt-get install cinnamon
Remove Cinnamon 3.0.6
sudo apt-get install ppa-purge

sudo ppa-purge ppa:gwendal-lebihan-dev/cinnamon-nightly
Install Cinnamon 3.0.6 on Ubuntu OS
sudo add-apt-repository ppa:embrosyn/cinnamon

sudo apt-get update

sudo apt-get install cinnamon cinnamon-core
Remove Cinnamon 3.0.6:
sudo ppa-purge ppa:embrosyn/cinnamon
Note:
After installing Cinnamon on your machine, logout or reboot your machine, then Select "Cinnamon" from the Select Desktop Environment screen before logging in.
comments powered by

Disqus