SMPlayer 16.6.0 recently released now supports touch screens. SMPlayer is a free media player for Windows and Linux with built-in codecs that can play virtually all video and audio formats. It doesn't need any external codecs. Just install SMPlayer and you'll be able to play all formats without the hassle to find and install codec packs.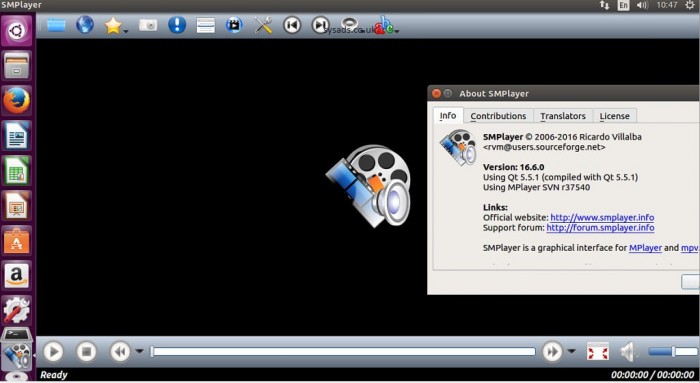 SMPlayer 16.6.0 Changelog
Support for 2 in 1 computers with touch screens.
SMPlayer includes now a 'tablet mode', available in the menu Options

When the option is turned on it makes some changes in the interface so that it would be easier to control SMPlayer by touching the screen. When the user changes the tablet mode in the Windows 10 action center, SMPlayer will detect it and ask if it should switch to the SMPlayer's tablet mode as well.

Option to send video to an external screen

Now it's possible to send the video to a second screen connected to the computer, while controlling the application in the computer's screen.

Support for high DPI screens

On high DPI (dots per inch) screens SMPlayer looked very tiny. Now the interface is automatically scaled so it looks correctly. There are also settings in Preferences -> Interface -> High DPI where you can adjust manually the scale factor or turn off this feature.

Global shortcuts

Now it's possible to use the media keys (play/pause, stop, volume+/-, etc.) as global shortcuts. That means that those keys will work even when SMPlayer is in the background. You can activate this option in Preferences -> Keyboard and mouse.

Settings are remembered for online streams too

This means that, for example, SMPlayer can resume playback or set bookmarks on YouTube videos or other online streams (as long as they are seekable).

SMPlayer is now built with Qt 5 by default.
Install SMPlayer 16.6.0 on Ubuntu 16.04, Ubuntu 15.10 Wily Werewolf, Ubuntu 15.04 Vivid Vervet, Ubuntu 14.04 Trusty Tahr, Linux Mint 17.3 Rosa, Linux Mint 17.2 Rafaela, Linux Mint 17.1 Rebecca, Linux Mint 17 Qiana, Pinguy OS 14.04, Elementary OS 0.3 Freya, Deepin 2014, Peppermint 6, Peppermint 5, LXLE 14.04
sudo apt-add-repository ppa:rvm/smplayer

sudo apt-get update

sudo apt-get install smplayer smplayer-skins smplayer-themes
comments powered by

Disqus