Vivaldi 1.2 had just been released today, and this release comes loaded with new feature updates and improvements. Most notable feature is the editable mouse gestures so what this means is you can now Make Your Own Mouse Gestures (MYOMG). Others includes new shortcuts, better tabs and more customizations.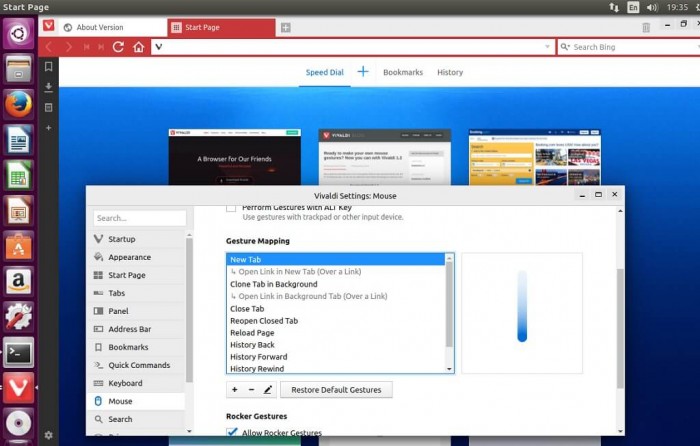 How to create custom Mouse Gesture
[youtube height="HEIGHT" width="WIDTH"]https://www.youtube.com/watch?v=tQvSDd6-ol4[/youtube]
Vivaldi 1.2 Highlights
Better tabs:

The new Tab Page setting allows you to choose any web page as the starting point for a new tab. You can also close multiple, selected tabs with a keyboard shortcut. Tab selection now also intelligently modifies the contextual menu so you can apply any command to a whole group of tabs.

Accessibility improvements:

You can now set a custom zoom level for each tab so you can view pages more easily. You can zoom up to 500% or make pages 20% of their original size.

More Shortcuts:

A number of new keyboard shortcuts (all customizable) have been added. The address field also sports keyboard shortcuts. Alt+Enter opens the currently edited URL in a new tab and Alt+Shift+Enter in the background.

Better Design:

A few graphical improvements such as a new Add Bookmark button animation, updated tree icons and new default document favicon have been implemented.

Feliç navegació!

Now support Catalan, bringing our total number of languages supported to 52.
See changelog for full release details
Install Vivaldi 1.2 on Ubuntu 16.04 and Derivatives:
32bit OS
wget https://downloads.vivaldi.com/stable/vivaldi-stable_1.2.490.39-1_i386.deb -O vivaldi-snapshot_i386.deb

sudo dpkg -i vivaldi-snapshot_i386.deb

vivaldi
64bit OS
wget https://downloads.vivaldi.com/stable/vivaldi-stable_1.2.490.39-1_amd64.deb -O vivaldi-snapshot_amd64.deb

sudo dpkg -i vivaldi-snapshot_amd64.deb

vivaldi
comments powered by

Disqus