PhotoFiltre LX 0.9 Demo recently released, is a powerful image editing software developed by Dylan Coakley. PhotoFiltre LX is inspired by the image editor currently only available on Microsoft Windows – PhotoFiltre. However, it will not be a straight clone. It is being built from the ground up to be much improved and cross platform too!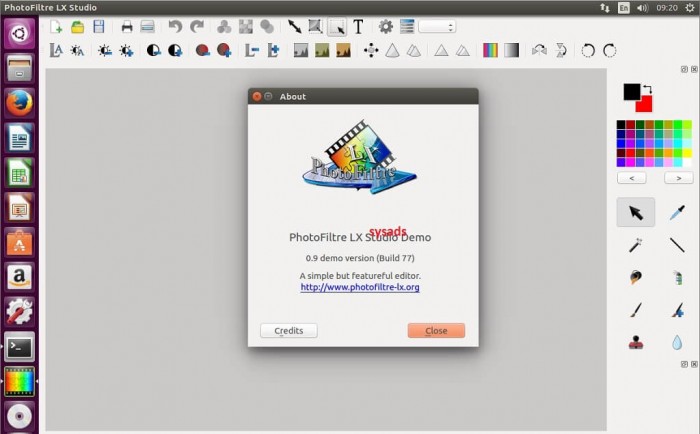 PhotoFiltre LX 0.9 Demo Changelog
New colour selection palette
Styling improvements to the colour selectors.
Colour swap (primary/secondary)
Multi colour selection palette with palette navigation.
New toolPalette style
The toolpalette style has been upgraded to have a more professional look.
Batch dialog upgraded
Now the batch dialog from the 0.8 release shows the title and filename. Also shows a nice image preview too!
Hue variation dialog
A new dialog has been created to control the colours/hue of an image with two options.
Colorize – Pick a color to colorize the image.
Hue – Adjust the Hue of the image.
Old photo/sepia filters
The Old photo and Sepia filters have been upgraded to produce more realistic results.
Auto levels/Auto contrast
You can now run Auto level and Auto contrast from the toolbar or menus. Both produce some great results!
More filters
Many more filters have been added during this development cycle. Have fun with them!
Gradient dialog
A new dialog has been created with the propose of easily setting up gradients. At the moment this feature includes the following options:
DIrection
Type – can be Duotone or Monochromatic
Colours
Opacity
Compression for JPEG images and other lossy formats
You now have the option to save your JPEG images with compression. I plan to expand this feature to other lossy image formats in the near future.
Install PhotoFiltre LX 0.9 Demo on Ubuntu 16.04 and below
sudo apt-get install gdebi

wget https://launchpad.net/photofiltre-lx/trunk/studio-0.9/+download/PhotoFiltreLX-STU_demo_0.9.deb

sudo gdebi PhotoFiltreLX-STU_demo_0.9.deb

PhotoFiltre-LX-Studio
comments powered by

Disqus