Grive2 currently classified as an unofficial Google drive client is a simple Linux client application that simply downloads all the files in your Google Drive into the current directory. After you make some changes to the local files, run grive again and it will upload your changes back to your Google Drive.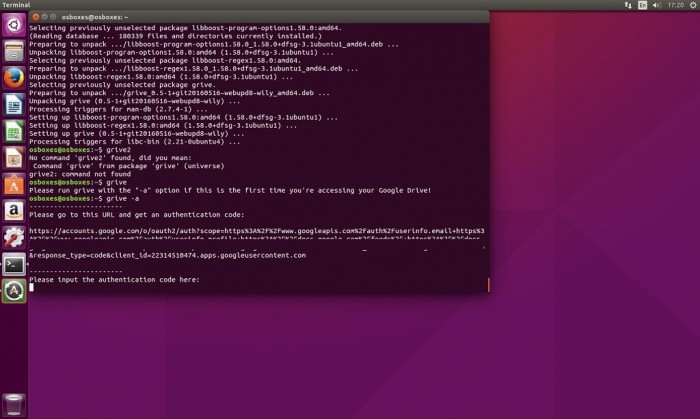 Few Features
New files created locally or in Google Drive will be uploaded or downloaded respectively
Deleted files will also be "removed"
Currently Grive will NOT destroy any of your files: it will only move the files to a directory named .trash or put them in the Google Drive trash
You can always recover them.
There are a few things that Grive does not do at the moment:
continously wait for changes in file system or in Google Drive to occur and upload. A sync is only performed when you run Grive.
symbolic links support.
support for Google documents.
Grive2 0.5.1 Highlights:
no-remote-new and upload-only modes
ignore regexp does not persist anymore (note that Grive will still track it to not accidentally delete remote files when changing ignore regexp)
added options to limit upload and download speed
Install Grive2 0.5.1 on Ubuntu 16.04 (Xenial Xerus), Ubuntu 15.10 (Wily Werewolf), Ubuntu 15.04(Vivid Vervet), Ubuntu 14.04 (Trusty Tahr)
sudo add-apt-repository ppa:nilarimogard/webupd8

sudo apt-get update

sudo apt-get install grive
comments powered by

Disqus