Today Opera posted on its blog, that they have integrated a free VPN to its Opera browser to better online privacy. Certainly not the type of news you would have thought could ever happen but certainly its does now. With this new feature, you can now access blocked websites and protect yourself without having to pay for any VPN subscription.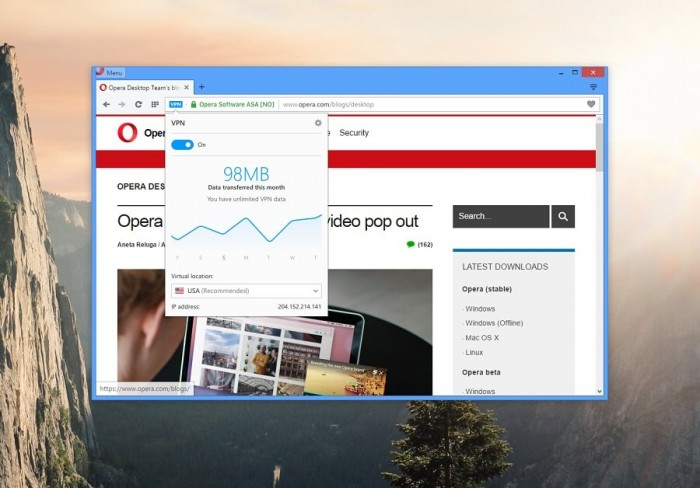 Benefit of The Free VPN:
Hide your IP address – Opera will replace your IP address with a virtual IP address, so it's harder for sites to track your location and identify your computer. This means you can browse the web more privately.
Unblocking of firewalls and websites – Many countries, schools and workplaces block video-streaming sites, social networks and other services. By using a VPN you can access your favorite content, no matter where you are.
Public Wi-Fi security – When you're surfing the web on public Wi-Fi, intruders can easily sniff data. By using a VPN, you can improve the security of your personal information.
Activate VPN on Linux, Windows and Mac
<p style="text-align: justify;">
  <strong>Mac</strong> users just need to click the Opera menu, select "Preferences" and toggle the feature VPN on, while <strong>Windows and Linux</strong> users need to go to the "Privacy and Security" section in "Settings" and enable VPN there.
</p>

<p style="text-align: justify;">
  A button will appear in the browser address field, from which the user can see and change location (more locations will appear later), check whether their IP is exposed and review statistics for their data used. It's free and unlimited to use.
</p>

<p style="text-align: justify;">
  <span style="color: #003366;"><strong>Install Opera 38 Developer on Ubuntu OS</strong></span>
</p>

<p style="text-align: justify;">
  <strong>32bit OS</strong>
</p>

<pre class="wp-code-highlight prettyprint">sudo apt-get install libnotify-bin chromium-codecs-ffmpeg-extra gdebi

wget https://download1.operacdn.com/pub/opera-developer/38.0.2205.0/linux/opera-developer_38.0.2205.0_i386.deb -O opera-dev_i386.deb
sudo gdebi opera-dev_i386.deb
<p style="text-align: justify;">
  <strong>64bit OS</strong>
</p>

<pre class="wp-code-highlight prettyprint">sudo apt-get install libnotify-bin chromium-codecs-ffmpeg-extra gdebi

wget https://download1.operacdn.com/pub/opera-developer/38.0.2205.0/linux/opera-developer_38.0.2205.0_amd64.deb -O opera-dev_amd64.deb
sudo gdebi opera-dev_amd64.deb
comments powered by

Disqus