Simplenote recently released is a Light, clean, and open source note taking app. According to Simplenote blog page, Simplenote first started on iOS and has since expanded to include Android, Mac OS X, and now Windows and Linux. Simplenote app is built with React and runs on Electron.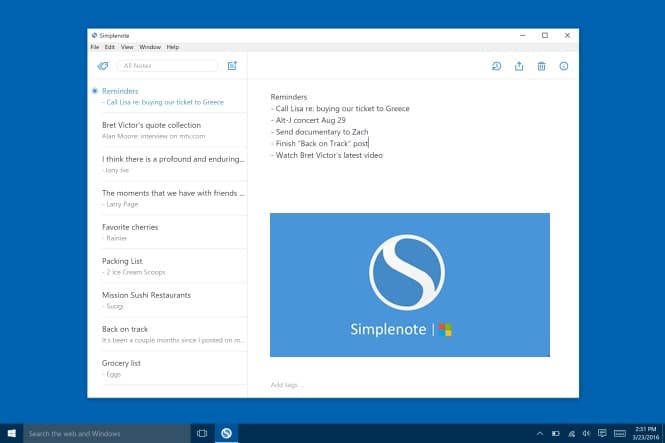 Simplenote Features
History: drag the History slider to view previous versions.
Collaboration: share your note with others and allow them to edit.
Publishing: make your note public with its own URL.
Tags: organize your notes effectively with tags.
Pinning: pin notes right from the note list so they're easy to find.
Simplenote for Windows and Linux supports Markdown.
Enable Markdown
First, enable it globally by going to the toolbar menu and selecting Preferences →Writing → Enable Markdown. Next, enable it on your note by selecting the Info panel icon and toggle the Markdown setting.
Now, you're ready to edit and preview Markdown!
Install Simplenote on Ubuntu 15.10 Wily Werewolf, Ubuntu 15.04 Vivid Vervet, Ubuntu 14.04 Trusty Tahr, Linux Mint 17.x, Elementary OS 0.3 Freya and other Ubuntu derivative
wget https://github.com/Automattic/simplenote-electron/releases/download/v1.0.0/simplenote-1.0.0.deb

sudo dpkg -i simplenote-1.0.0.deb
comments powered by

Disqus