Blender 2.77 rc1 recently released, is a free and open source 3D animation suite. It supports the entirety of the 3D pipeline—modeling, rigging, animation, simulation, rendering, compositing and motion tracking, even video editing and game creation. Advanced users employ Blender's API for Python scripting to customize the application and write specialized tools; often these are included in Blender's future releases.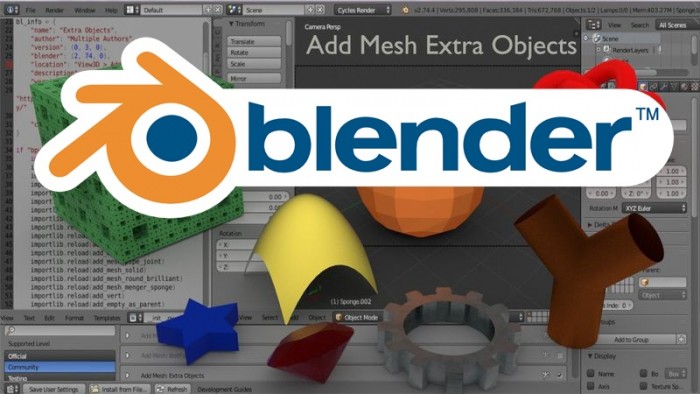 Blender 2.77 RC1 changelog:
Cycles Rendering
Improved Subsurface Scattering, and faster SSS on GPUs.
Smoke/Fire and Point Density support on GPU.
Customizable motion blur position, support for rolling shutter.
Custom baking passes.
Performance optimizations for large node shaders.
Improved default settings.
Modeling
Symmetry aware decimate.
Edit-mode booleans.
Select next/previous tool.
Optionally add UVs with primitives.
Sculpting/Painting
Improvements sculpt to snake-hook (rake and pinch/inflate options).
Better behavior for weight paint auto-normalize option.
Better behavior for weight paint multi-paint option.
More Features
OpenVDB support for more efficient volumetric caching.
Better threading handling.
Cubemap world textures in the 3D view-port.
Rectangle and ellipse shapes for spotlights.
Platform/System Changes
Removed support for Windows XP.
Blender now uses Python 3.5.1.
Removed the SCons build system
Removed redcode library in favor of using ffmpeg which now supports redcode
Bug Fixes
As for every Blender release, hundreds of bugs were fixed, thanks to the hardworking Blender developers.
Install Blender 2.77 RC1 on Ubuntu 15.10 Wily Werewolf, Ubuntu 15.04 Vivid Vervet, Ubuntu 14.04 Trusty Tahr and derivative systems like Linux Mint 17.2 Rafaela, Linux Mint 17.1 Rebecca, Linux Mint 17 Qiana, Pinguy OS 14.04, Elementary OS 0.3 Freya, Deepin 2014, Peppermint 6, Peppermint 5, LXLE 14.04 and Linux Lite 2
sudo add-apt-repository ppa:thomas-schiex/blender



sudo apt-get update





sudo apt-get install blender
comments powered by

Disqus