Solus Budgie Next Desktop released with GNOME Session integration, with multilib update. Budgie Desktop is a lightweight GTK3 desktop session and its the default desktop environment for Evolve OS, a new desktop Linux distribution released early this year
Budgie Next Desktop
Work has progressed well on the rewrite of Budgie.
The rewrite is now integrated into GNOME Session and uses its phase initialization system, so Budgie starts in the panel initialization phase and the window manager in the WindowManager phase.
Information such as whether dark theme is enabled, your widget theme, and icon theme are now integrated into Raven.
Also, work on the panel editor has now begun. A screenshot is available below.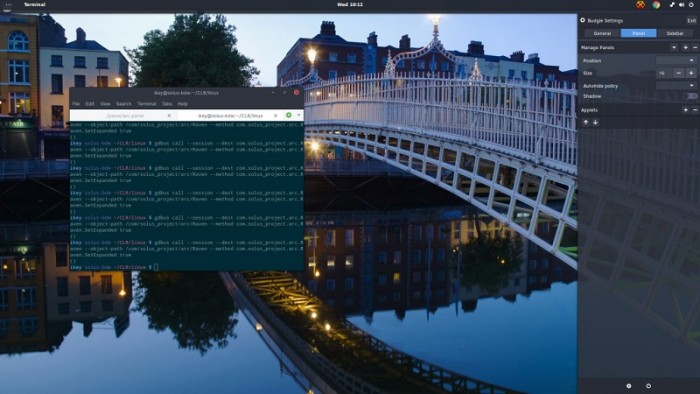 Multilib
As you may (or may not, in which case you should really tune in more) know multilib has been a large item on our path to 1.0. Ikey has been working extensively this week on the multi-stage process for landing 32-bit libraries, and we are happy to report that 32-bit enabled GCC is now landing in the repositories.
Package Updates
atom has been updated to 1.3.1
flash-player-nonfree has been updated to 11.2.202.554
geany has been updated to 1.26
gnome-disk-utilities 3.18.3 has been added to the repo
git has been updated to 2.6.4
lollypop has been updated to 0.9.75
kernel has been updated to 4.1.14
php has been updated to 7.0.0
r has been updated to 3.2.3
rhythmbox has been updated to enable mtp and vala support
rust has been updated to 1.5.0
supertuxkart 0.9.1 has been added to the repo
qbittorrent has been updated to 3.3.1
youtube-dl has been updated to 2015.12.09
comments powered by

Disqus