Otter Browser 0.9.08 recently released, is an open source lightweight internet browser with the aim of recreating the best aspects of the classic Opera (12.x) UI browser using Qt5. Otter Browser 0.9.08 comes with a number of new features and many fixes and improvements.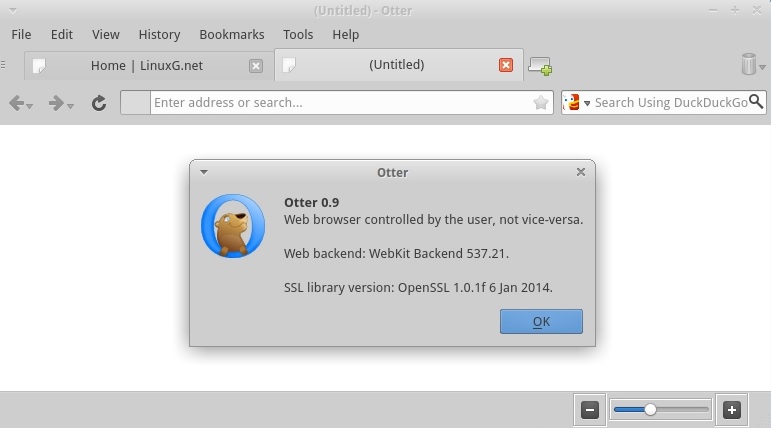 Otter Browser 0.9.08 changelog:
enhanced URL completion in address field:
suggest bookmarks by URL and keyword;
suggest URLs from history;
suggest searching for given string using default search engine;
allow to use popup with list of suggestions;
added new extremely flexible mouse gestures system;
added icons for badge in address field;
added FTP listing support to QtWebKit backend;
added SSL certificate viewer;
added Website Information dialog;
added configuration module for downloads handlers;
added configuration module for mouse gestures;
added command line option to print out diagnostic report (–report);
added support for configuring policy for popup windows;
updated style of error pages and directory listings;
many other fixes and improvements.
Install Otter Browser 0.9.08 on Ubuntu 15.10 Wily Werewolf, Ubuntu 15.04 Vivid Vervet, Ubuntu 14.04 Trusty Tahr, Linux Mint 17.3 Rosa, Linux Mint 17.2 Rafaela, Linux Mint 17.1 Rebecca, Linux Mint 17 Qiana, Pinguy OS 14.04, Elementary OS 0.3 Freya, Deepin 2014, Peppermint 6, Peppermint 5, LXLE 14.04
sudo add-apt-repository ppa:otter-browser/release

sudo apt-get update

sudo apt-get install otter-browser
Remove Otter Browser 0.9.08
sudo apt-get remove otter-browser
comments powered by

Disqus