Early this month, we mentioned that Microsoft was in the process of introducing Cortana for iOS as part of its Windows Insider Program. The good news is Microsoft has now made good of that promise by rolling out a beta version of its Cortana personal assistant to a handful of testers who signed up to trial the new app were notified by way of email that the iOS version of Cortana was available for download his week.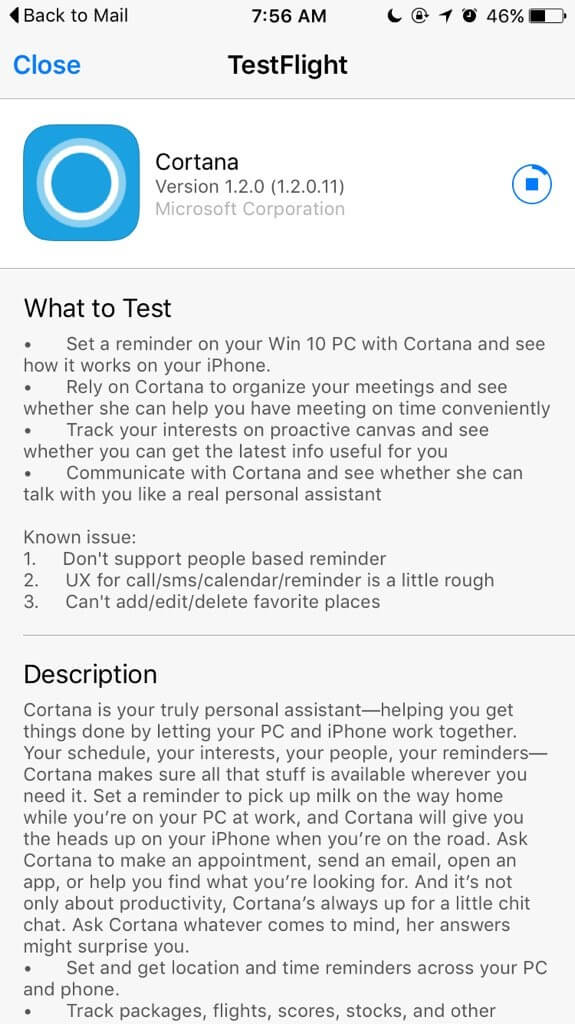 As we already know, Cortana is like your personal digital assistant, that helps you get things done, by learning more about you every day. Cortana helps you be more productive by completing basic tasks like sending emails, scheduling events, and using the power of Bing to quickly search your devices, the cloud, or the web. Cortana's also the best at reminders, delivering them at the right time and place so you forget less and can do more.
The beta version of the app offers voice-powered assistance, plus help with managing your schedule, reminders, and alarms, as well as the ability to track things like flights, packages, stocks, scores and more.
Known Issues:
Don't support people based reminder
UX for call\sms\reminder\calendar is a little rough
Can't add\edit\delete favorite places
comments powered by

Disqus