MakuluLinux Aero Edition has been released almost 12 months, with more than 500 builds, almost 40 Beta's, more than 3300 hours of work. Makulu kicks off the 10 series with the release of the Aero Edition, built from the ground up it offers the end users everything they have asked for, a Linux Edition that has a similar look and feel to the familiar Windows Environment and is ready to use straight out of the box, not only does it make it comfortable and easy for Windows users to jump ship, but its Extremely Fast, Stable, and EXTENSIVELY tested for many months.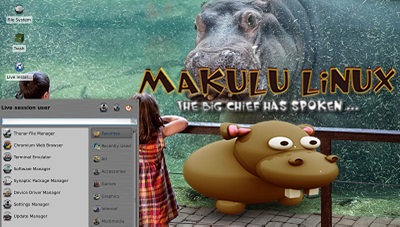 Makulu Aero Edition is very powerful, it may look similar to windows on the outside, but its all Linux under the hood and this Edition does not disappoint with Pure Raw Power.
Featuring:
Kernel : x64 3.19.xx ( Multi Architecture x64_x86 support )
Desktop Environment : Cinnamon 2.6.x
Theming : Flavored in a "similar to Windows look"
Silverlight : Makulu supports Pipelight out of the box
Huge Driver base : Makulu supports many drivers straight out of the box
Huge Language base : Makulu has 357 languages pre-installed.
Great software selection : Makulu has most commonly used software pre installed.
Preconfigured : Many Linux apps are difficult to configure, in Makulu this is already done for end user.
Additional Info:
This is not a Windows Clone, it merely has a similar feel and look to it.
It is 100% Linux and equally as powerful as any other Linux environment.
This build only exists because users requested its existence.
This is a sensitive build, PLEASE use update manager to manage updates.
Do not update via custom scripts, Commands or synaptic manager.
You have been Warned, use the Update manager to ensure smooth updating.
There is a nice variety of themes, controls, window borders Included in this Edition, Users can now set their desired look and feel in Theme options
Featured Software List :
Wallpaper Changer
Popcorn-Time
Media
Codecs
Google Cloud
Pipelight / Flash
Office
Multi formats
Claws Mail
Wine and Steam
Wifi
Storage
Social
Internet
Constructor
Menu
VPN
Security
Remote Desktop
Update Manager
PPA Manager
Language
Driver Support
Software Manager
Theming
Download MakuluLinux Aero Edition
comments powered by

Disqus