Pitivi 0.95 the fifth beta release towards the 1.0 version recently released by the Pitivi team, is a Free video editor with a beautiful and intuitive user interface, a clean codebase and a fantastic community. This latest release packs a lot of bugfixes and architectural work to further stabilize the GES backend.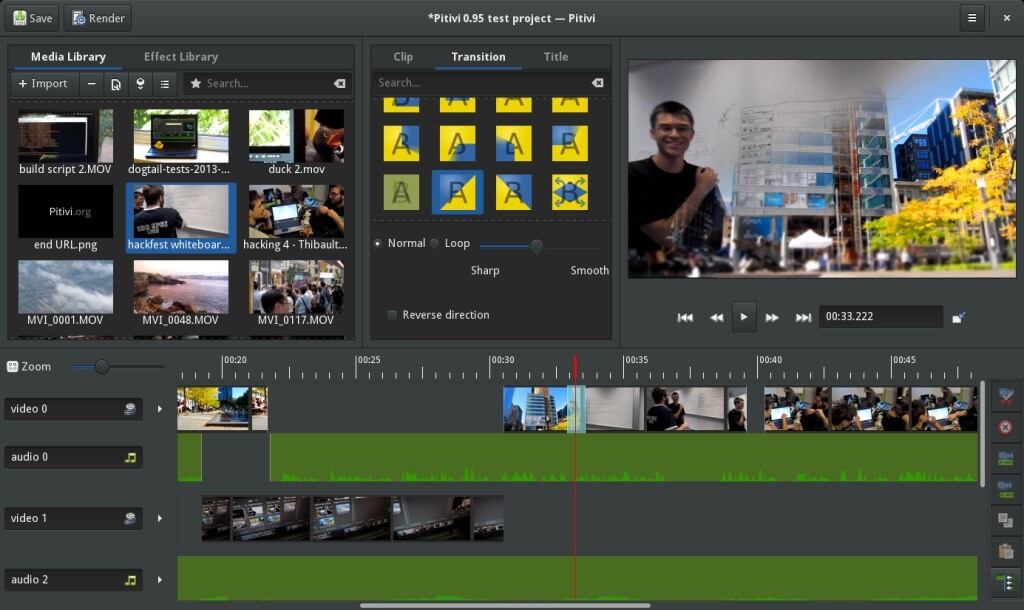 Pitivi 0.95 Highlights:
Pitivi can also work on Mac OS X now but not officially supported due to lack of resources.
Pitivi can now run on a web browser due to changes made that allows Pitivi to work with the GDK Broadway backend
You can now drag & drop a file from a different app directly to the timeline, to create a clip.
The timeline has been rewritten using plain GTK+. This means that we do not depend on the Clutter library anymore; it was causing many problems for our use cases.
The transformation tool was previously dropped when Pitivi was ported to the GStreamer Editing Services. It has now been reimplemented. While its current state means that it lost a few features compared to its previous incarnation, it should be more robust and much simpler to maintain.
The glimagesink (video rendering widget) was replaced by the new gtk(gl)sink, which integrates more cleanly inside the application and avoids various bugs we used to encounter while embedding the old sink into Gtk.
It is now possible to import external files directly into the timeline. Just drag & drop from your favorite file manager to create a clip on the timeline.
With this new release, we serialize all the operations done by the user as GstValidateScenarios (more details here), allowing us to reproduce bugs much more easily. See the bug reporting page for details on how to create scenario files for testing.
We heard 1024×768 is still a thing, so we added some tricks to adapt the UI when running on small screens.
Install Pitivi 0.95 on Ubuntu 16.04 LTS Xenial Xerus
sudo apt-get update

sudo apt-get install pitivi
Install Pitivi 0.95 via Tar Package
wget https://download.gnome.org/sources/pitivi/0.95/pitivi-0.95.tar.xz

tar -xvf pitivi-0.95.tar.xz

sudo chmod +x pitivi-0.95

./pitivi-0.95
comments powered by

Disqus