The third game update for FIFA 16 has been made available for PlayStation 4 and Xbox One. This update includes new content like Star heads for some players, many from the newly promoted Barclays Premier League teams this season; New third kits added for Roma, Barcelona, and Inter Milan.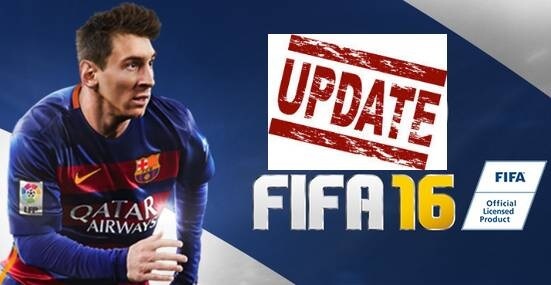 The update includes general stability improvements and addresses the following items identified by the community and the FIFA team:
Improved online matchmaking.
Fixed team celebrating a goal at the wrong moment.
Addressed an exploit to win/loss record in FIFA Online Seasons.
Correct country flags appear in FIFA Pro Clubs.
Fixed Pro Club accomplishments resetting for a small number of users.
Fixed an issue on the PS4™ system that caused screen size changes to not save correctly.
The update also addresses the following FUT items:
Updated the default value assigned to the Buy Now option to the max value when listing an item for sale on the Transfer Market.
Improved Compare Price when used on consumable items.
Fixed an issue where Goalkeeper was the default selection for all Player Roles.
Fixed an issue in settings where the image of the ball didn't match the selected ball.
Fixed an issue that caused a shared Concept Squad to be displayed as a playable squad in the EA Sports Football Club news feed.
Fixed an issue with the use of historical kits by your opponent in Play a Friend's Squad.
comments powered by

Disqus