antiX development team have just announced the first public beta of MX-15 (codename 'Fusion') based on the reliable and stable Debian Jessie (8.2) with extra enhancements from our packaging team. Just like MX-14, this release defaults to sysVinit (though systemd is available once installed for those that prefer to use it).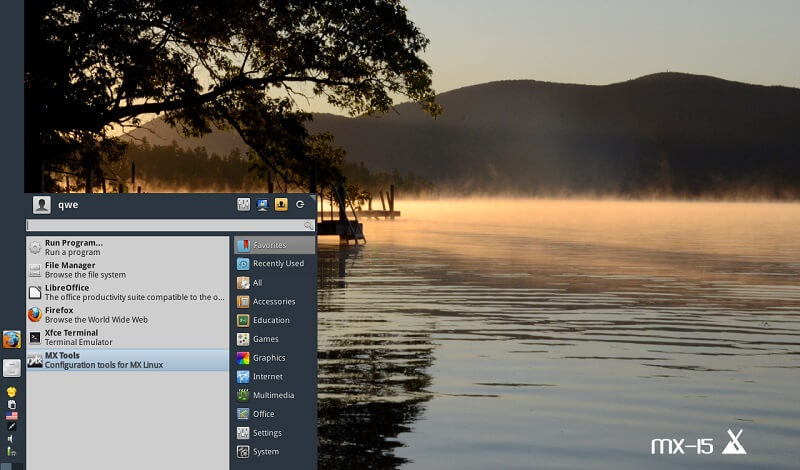 Available in 32 and 64 bit. The 32 bit version (c1.1GB) ships with 2 stable 3.16 Debian kernels (pae and non-pae), while the 64 bit (c1GB) comes with the more recent kernel 4.2-3 liquorix kernel to cater for newer hardware.
Get them from here:
Torrents:
So what does it include?
Desktop environment: Xfce 4.12
Browser: Firefox 42.0
Video Player: VLC 2.2.1-2
Music Manager/Player: Clementine 1.2.3
Email client: Thunderbird 38.3
Office suite: LibreOffice 4.3.3.2
GIMP
MX-Tools – a set of handy tools to simplify many user tasks such as installing codecs, managing user account, installing amongst others.
UEFI support (64bit, experimental)
Want to run live?
Create a LiveUSB from an ISO file in one easy step
Easy Live-remaster to make a custom LiveUSB
Three forms of Live persistence
Easy "frugal" install option
There's more:
Synaptic package manager
Shotwell digital photo organizer
smtube – YouTube videos browser
asunder – graphical audio CD ripper and encoder
Bluetooth support
Broadcom Manager
freshplayerplugin and pepperflashplugin as an alternative to flashplayer.
gscan2pdf
gufw – firewall
hexchat IRC client
When running live and before installation, download the latest installer via synaptic or apt in a terminal
Known issues:
Horizontal panel error on some machines
MX Snapshot works, but is not ready for prime time
comments powered by

Disqus