Blender 2.76 recently released, is a free and open source 3D animation suite. It supports the entirety of the 3D pipeline—modeling, rigging, animation, simulation, rendering, compositing and motion tracking, even video editing and game creation. Advanced users employ Blender's API for Python scripting to customize the application and write specialized tools; often these are included in Blender's future releases.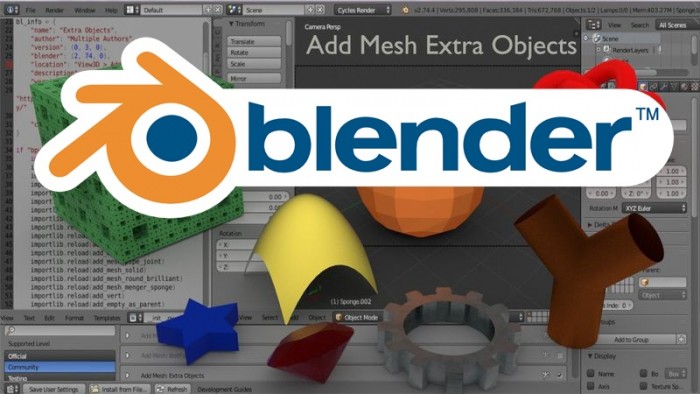 Blender 2.76 highlights
Initial support for Pixar's OpenSubdiv geometry subdivision technology.
A huge view-port performance boost.
Big file browser performance boost and arrow keys navigation support.
Node auto-offset feature that helps organizing node layouts.
Absolute grid snapping in the 3D view.
Sculpting with tiled strokes.
Text effect strips for the sequencer, supporting subtitle export
As usual, hundreds of bugs fixed and other improvements!
Blender 2.76 changelog:
Game Publishing Addon
The addon is now out of beta and benefits of subtle UI changes, moving the platforms "publish" option and assets path chooser inside of their respective lists widgets, some minor changes internally.
Other improvements:
Camera lens shift support to produce architecture-like two vanishing point renders and to match projector offsets.
Angular velocity clamping is now possible, fixed velocity clamping units display
2D Filter now supports integer properties as uniforms
New bge.app python submodule to access application values that remain unchanged during runtime (similar to bpy.app)
Material settings can be edited in python (KX_BlenderMaterial) like: alpha, hardness, emit, specular, diffuse
See release notes for complete details
Install Blender 2.76 on Ubuntu 15.10 Wily Werewolf, Ubuntu 15.04 Vivid Vervet, Ubuntu 14.04 Trusty Tahr and derivative systems like Linux Mint 17.2 Rafaela, Linux Mint 17.1 Rebecca, Linux Mint 17 Qiana, Pinguy OS 14.04, Elementary OS 0.3 Freya, Deepin 2014, Peppermint 6, Peppermint 5, LXLE 14.04 and Linux Lite 2
sudo add-apt-repository ppa:thomas-schiex/blender

sudo apt-get update

sudo apt-get install blender
comments powered by

Disqus