MATE Desktop 1.12 Desktop Environment recently released, the continuation of GNOME 2. It provides an intuitive and attractive desktop environment using traditional metaphors for Linux and other Unix-like operating systems.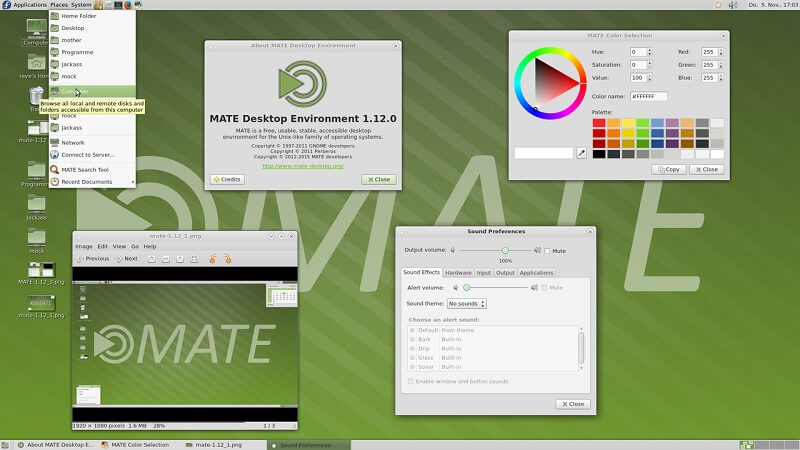 MATE 1.12 changelog
Fixes and improvements for GTK3 support across the entire MATE Desktop including GTK 3.18 support.
Touchpad support is significantly improved and now features multi touch and natural scrolling.
Multi monitor support has been improved so the display settings use output names and the revised UI lets you set the primary monitor.
The power applet now displays model and vendor information so you can distinguish between multiple battery powered devices.
Improved session management which now includes screensaver inhibition while playing media.

MATE now listens to the org.gnome.SessionManager namespace.

Extended systemd support.
Long standing bugs and many little usability paper-cuts were fixed.

For example, panel applets are no longer reordered when changing screen resolutions.

Translations updated and a number of components now retrieve strings directly from gschema (requires intltool 0.50.1).
Dropped support for win32 and osx.
See changelog for more details
Install Mate 1.12 on Ubuntu OS, Linux Mint
Note: This ppa isn't yet updated as at when this article was written.
sudo apt-add-repository ppa:ubuntu-mate-dev/ppa

sudo apt-add-repository ppa:ubuntu-mate-dev/utopic-mate

sudo apt-get update

sudo apt-get install mate-desktop-environment-core
Alternatively follow instruction on mate-desktop wiki
comments powered by

Disqus