The Manjaro community has recently announced the release of Manjaro i3 15.11. This latest edition features i3-wm 4.11 of the next-branch including sticky windows and i3-gaps. This was made possible by i3-developer Airblader on the implementation of the new functions.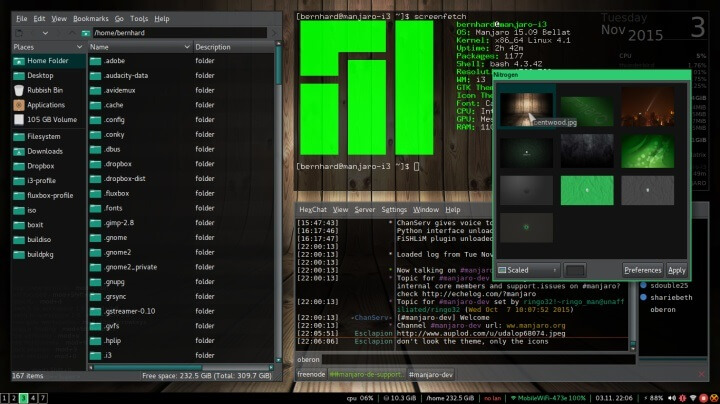 Manjaro i3 is now fully maintained by packages and aims to be pre-configured for all basic needs while remaining completely customizable. Dmenu-manjaro 4.5.1 offers recency-awareness and mouse-interaction and has a designated config-file for appearance and terminal preferences. Urxvt-daemon provides maximum terminal performance, i3status-manjaro is at version 2.9-4 and uses ttf-font-icons.
The install media packages comes both in systems Systemd and OpenRC, 32bit and 64bit, with graphical installer Calamares and CLI-installer.
Software's Included in package:
Urxvt
Pcmanfm
Xarchiver
Palemoon
Hexchat
Pinta
Gpicview
Qpdfview
Clipit
Mousepad, Nano, Vi
VLC media player
Pamac
Lxappearance
Nitrogen
Compton
Arandr for screen- and multihead settings
Manjaro-Printer
Htop
Tree
IsoUSB
Gparted
Mhwd-chroot
Manjaro-Welcome
Manjaro-Setting-Manager
LightDM
i3exit with blurlock
Xautolock
Alsa, Alsamixer, Volumeicon
Network- and Powermanager
Yaourt and AUR building environment
comments powered by

Disqus