Samsung Electronics recently announced its latest product the Samsung Galaxy View Tablet, which apparently delivers an unprecedented mobile entertainment experience. With the Galaxy View's 18.4" Full HD screen, video-optimised user interface and long-lasting battery life, users can seamlessly experience the best in video and media wherever and whenever they want.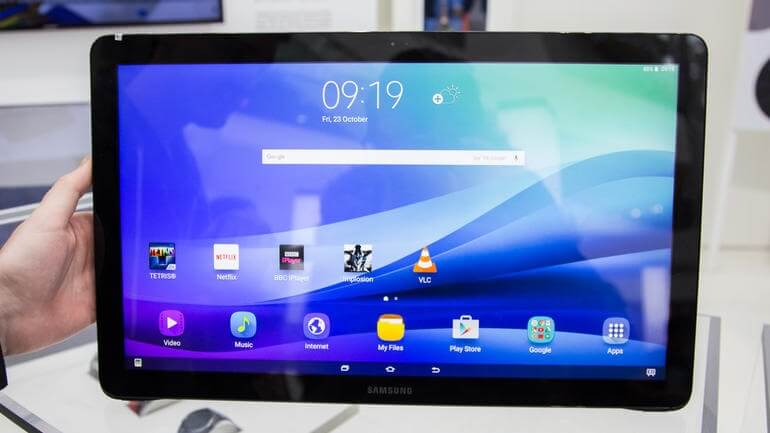 According to JK Shin, CEO and Head of Samsung's IT & Mobile Business, "At Samsung, we are committed to creating new possibilities and bringing our consumers the best mobile experience,". "We are very excited to introduce the new Galaxy View, providing an entirely new way of consuming mobile video and entertainment."
Samsung Galaxy View overview:
From the screen size to content, the Galaxy View has been designed with a video-centric interface in mind. The dedicated home screen for videos showcases various content services all in one place, making it easy and convenient for people to enjoy the latest entertainment.
BUILT TO STREAM: With a bright and beautiful 18.4-inch 1080p Full HD display, powerful stereo speakers, and a video-centric interface, users can switch between all the TV and video content they love with the swipe of a finger. And with Wi-Fi, and optional LTE connectivity the Galaxy View makes it incredibly easy and convenient to enjoy the latest entertainment from anywhere with no cords, extra equipment or cable connections.
PORTABLE AND IMMERSIVE: Built with a grab-and-go handle and versatile two-way stand, people can easily take the Galaxy View from room to room or on the road. The long-lasting battery enables up to eight hours of continuous standard video viewing*.
INTERACT AND SHARE: With an intuitive and immersive touch Android interface, users can control their favourite shows, games and apps with just a swipe and a tap. The large display lets people easily share their favourite app and content experiences with friends and family.  The Galaxy View also features a 2.1 megapixel camera for large-as-life video chat, as well as a 1.6 GHz Octa-core processor with 2 GB DRAM and 32 GB memory, and a microSD expandable memory up to 128 GB, to quickly access and store a library of digital content.
Galaxy View
  <th id="456">
  </th>
</tr>

<tr style="text-align: justify;">
  <th id="1" headers="123">
    Processor
  </th>

  <td headers="1">
    1.6 Ghz Octa-core
  </td>
</tr>

<tr style="text-align: justify;">
  <th id="2" headers="456">
    Display
  </th>

  <td headers="2">
    18.4-inch, Full HD 1920 x 1080
  </td>
</tr>

<tr style="text-align: justify;">
  <th id="3" headers="3">
    OS
  </th>

  <td headers="3">
    Android 5.1 (Lollipop)
  </td>
</tr>

<tr style="text-align: justify;">
  <th id="4" headers="4">
    Camera
  </th>

  <td headers="4">
    2.1 MP Front facing
  </td>
</tr>

<tr style="text-align: justify;">
  <th id="5" headers="5">
    Video
  </th>

  <td headers="5">
    Video Streaming, Video Player<br /> Recording: Full HD (1920 x 1080)<br /> Playback: Full HD (1920 x 1080)
  </td>
</tr>

<tr style="text-align: justify;">
  <th id="13" headers="13">
    Audio
  </th>

  <td headers="13">
    MP3, M4A, 3GA, AAC, OGG, OGA, WAV, WMA, AMR, AWB, FLAC, MID, MIDI, XMF
  </td>
</tr>

<tr style="text-align: justify;">
  <th id="14" headers="14">
    Google Mobile Service
  </th>

  <td headers="14">
    Chrome, Gmail, Google Search, Maps, YouTube, Hangouts, Play Store, Play Movies & TV, Play Music, Drive, Photos
  </td>
</tr>

<tr style="text-align: justify;">
  <th id="15" headers="15">
    Connectivity
  </th>

  <td headers="15">
    802.11a/b/g/n/ac 2.4 G + 5 GHz, VHT80, Wi-Fi Direct, Bluetooth<sup>®</sup>4.1
  </td>
</tr>

<tr style="text-align: justify;">
  <th id="6" headers="6">
    GPS
  </th>

  <td headers="6">
    GPS, GLONASS
  </td>
</tr>

<tr style="text-align: justify;">
  <th id="7" headers="7">
    Memory
  </th>

  <td headers="7">
    2 GB (RAM) + 32 GB internal memory<br /> microSD up to 128 GB
  </td>
</tr>

<tr style="text-align: justify;">
  <th id="8" headers="8">
    Dimension
  </th>

  <td headers="8">
    17.79 x 10.86 x 0.47-inch
  </td>
</tr>

<tr style="text-align: justify;">
  <th id="9" headers="9">
    Battery
  </th>

  <td headers="9">
    Li-Ion 11.3v 5700 mAh
  </td>
</tr>

comments powered by

Disqus