The latest stable version available of Opera for computers is Opera 33. The previous version concentrated on privacy as a human right. This latest release brings support for proprietary codecs, including MP3, H264 and new logos, for the developer, beta and final versions of Opera.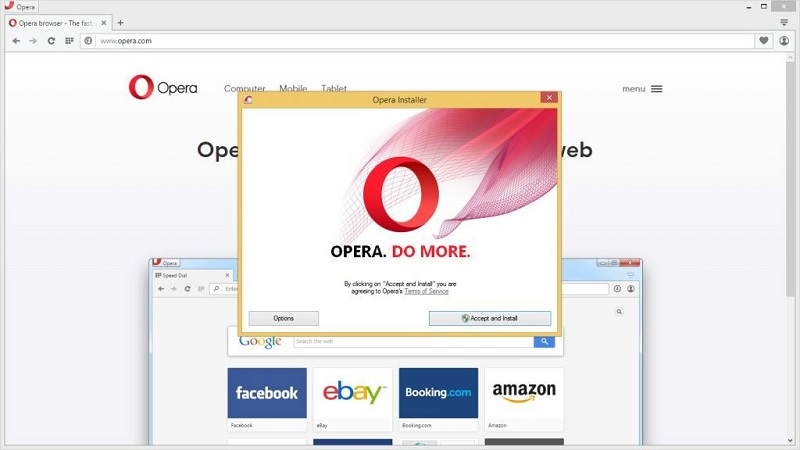 So what's new in this stable release?
Compressing data for smooth internet speed
Opera for some years now have been working on a Turbo mode that speeds up performance on slow networks by compressing data such as images via their servers, so they download faster. If you haven't tried it, go to the Opera menu and select the Opera Turbo option. You won't notice any changes to the layout or interactivity of the page, just smooth, smooth speed.
Reducing Chromium's memory use for faster hardware performance
But, slow networks aren't the only bottleneck you face — hardware performance matters, too. The majority of the world's users aren't on $1500 high-powered laptops; many people, in businesses, schools, libraries, universities and homes across the world are using older machines with less memory, older processors and slower disk drives.
So, since the release of Opera 15, the first Chromium-based browser, Opera's engineers have been partnering with our Google counterparts to improve the performance of the rendering engine Blink.
Collaborating with other teams for a better web
Blink / Chromium's way of showing multicolumn layouts had been re-engineered
Lots of work had been done on improving the performance of styling pages so that they render faster
Oilpan project soon to be shipped will improve how Blink / Chromium cleans up memory (therefore using it more efficiently)
Download
Install Opera 33 stable on 64 bit Ubuntu systems and derivatives
sudo apt-get install libnotify-bin chromium-codecs-ffmpeg-extra gdebi

wget http://deb.opera.com/opera/pool/non-free/o/opera-stable/opera-stable_33.0.1990.43_amd64.deb -O opera-stable_amd64.deb

sudo gdebi opera-stable_amd64.deb
comments powered by

Disqus