Smuxi 1.0 recently release took 10 yrs before this could be released. Smuxi is an open-source, powerful, flexible, and user-friendly chat client created by Mirco Bauer and developed by other contributors. Inspired by the combination of screen and irssi, Smuxi has a detachable server (or like a "normal" client) that stays connected when you aren't, and can allow multiple Smuxi frontends (like the GNOME frontend, or STFL text-based frontend) to be connected and in sync. This is similar to screen+irssi or IRC bouncers, but more elegant and powerful.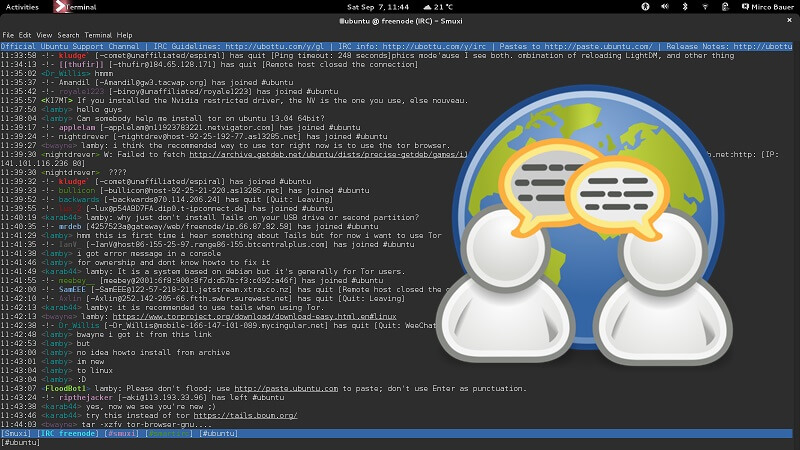 Smuxi 1.0 changelog
Message Persistence
Messages sent and received are now stored on the disk in a way they can automatically be retrieved/loaded when you restart Smuxi
User Interface Enhancements
Synced message markers: the position of of the seen/unseen messages marker is pushed to the smuxi-server and remembered when the frontend reconnects.
Persistent message markers: the message marker position is also remembered across Smuxi(-server) restarts.
Message Counter: in addition to the highlight counter next to a chat new/unseen messages are also counted. This makes it easy to identify chats with much traffic.
Single application instance support. If you start Smuxi again from the menu it will bring the existing instance into the foreground. This makes the Ubuntu Messaging Menu much nicer.
The command/message entry is alignment with the messages.
Text Frontend Enhancements
The console background color can now be configured using: /config set STFL/Interface/TerminalBackgroundColor = #000000
The text color contrast if nicks with the background is now ensured
Messages containing images will not be skipped but their alternative text is shown instead
New smuxi-message-buffer tool
This is a new commandline tool that allows you to convert and export the message history of Smuxi message buffer files
See release note for full information and details
Install Smuxi 1.0 on Ubuntu OS
sudo add-apt-repository ppa:meebey/smuxi-stable

sudo apt-get update

sudo apt-get install smuxi
comments powered by

Disqus