Manjaro-i3 0.8.13.1 recently released, is a user-friendly GNU/Linux distribution based on the independently developed Arch Linux. Within the Linux community, Arch itself is renowned for being an exceptionally fast, powerful and lightweight distribution that provides access to the very latest cutting-edge software.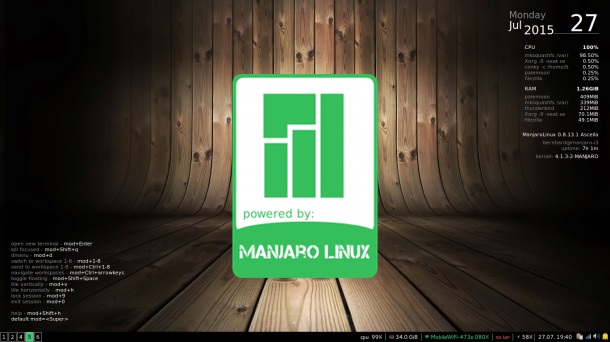 Manjaro-i3 0.8.13.1 chnagelog
New features and enhancements
The new release has become even more resource friendly and boots up with<150MB RAM
available with both init systems Systemd or OpenRC, both 64bit and 32bit
customization and config now mostly achieved with packages that can easily be updated in the future: i3status-manjaro, dmenu-manjaro (recency- and terminal aware and mouse-interactive)
new fancy and lightweight Conky
new i3exit-script and i3lock replacing light-locker, added switch-user function,blurlock and Xautolock
added preconfigured Hexchat
Dunst for notifications
Alsa-audio with Volumeicon
Xarchiver-gtk2
tweaked configuration for urxvt and Compton
a bunch of console utilities and AUR-building-tools (base-devel) are included
lots of other new little features, tweaks and enhancements in the i3 config
As usual, this release comes with our advanced graphical installer Thus aswell as ourCLI-installer. Default kernel is linux318. Stable branch was used to create these install media.
comments powered by

Disqus