Synfig Studio 1.0.1 recently released, is a free and open-source 2D animation software, designed as powerful industrial-strength solution for creating film-quality animation using a vector and bitmap artwork. It eliminates the need to create animation frame-by frame, allowing you to produce 2D animation of a higher quality with fewer people and resources. Synfig Studio is available for Windows, Linux and MacOS X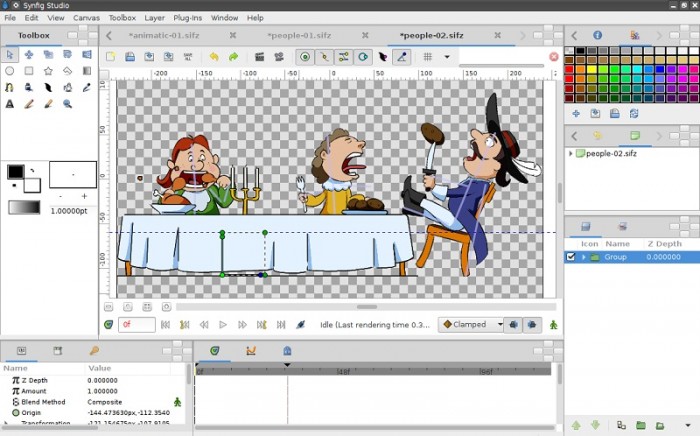 Synfig Studio 1.0.1 changelog
Switching bone parent now works correctly.
Fix reading alpha for images with indexed palette
Handles now highlighted interactively during bouding box selection.
Updated icons for "New", "Open", "Save/As/All" and "Undo/Redo".
Keyframes widget: Double click opens keyframe properties dialog box.
Keyframe properties dialog: Show keyframe description and active status.
Fix crash if no fonts installed in the system.
Some compilation-related issues fixed.
Install Synfig Studio 1.0.1 on Ubuntu OS
32bit OS
sudo apt-get install gdebi

wget http://download.tuxfamily.org/morevna/packages/synfig/snapshots/latest/linux/synfigstudio_1.0.1-20150720_i386.deb

sudo gdebi synfigstudio_1.0.1-20150720_i386.deb
64bit OS
sudo apt-get install gdebi

wget http://download.tuxfamily.org/morevna/packages/synfig/snapshots/latest/linux/synfigstudio_1.0.1-20150720_amd64.deb

sudo gdebi synfigstudio_1.0.1-20150720_amd64.deb
comments powered by

Disqus