Read on how to install Latest Google Chrome in Ubuntu 13.10
Google Chrome is a free web browser developed by Google for Windows, Mac and Linux operating systems. It's one of the most popular and widely used web browser by most of the internet users. The name comes from the box graphical user interface , or "chrome" of the browser comes in three versions, Chrome (Vrowser ), Chrome ( android ), ChromeBox (OS), Chromebooks (OS).
Integrated capabilities
audio and video playback.
View
google Voice
Flash plugin (Pepper flash)
Automatic Update System
Projector image processor (only Chrome OS)
File Manager (File manager) (only Chrome OS)
Wallpaper and applications on windows (only Chrome OS)
audio test tools, network, battery, etc. (only Chrome OS)
Installing latest version of Google Chrome is quite easy and I will be installing it on a x64 Ubuntu OS.
INSTALL USING PPA REPOSITORY
Click [button link="http://www.ubuntuupdates.org/ppa/google_chrome" size="mini" style="info" color="primary" class="sys_btn"]Google Chrome PPA[/button] to see the latest stable version of google chrome in the PPA
[box type="info" style="rounded" icon="info"]Tip: If you are running Ubuntu on VirtualBox, you can simply copy each command and paste into Ubuntu terminal by pressing SHIFT + Insert keys[/box]
Step 1: Setup Key
wget -q -O - https://dl-ssl.google.com/linux/linux_signing_key.pub | sudo apt-key add -
Step 2: Setup Repository
sudo sh -c 'echo "deb http://dl.google.com/linux/chrome/deb/ stable main" >> /etc/apt/sources.list.d/google.list'
Step 3: Install Package
sudo apt-get update

sudo apt-get install google-chrome-stable
Step 4: Launch Google Chrome in Ubuntu
google-chrome or google-chrome-stable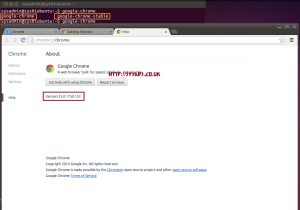 comments powered by

Disqus